'Tis the holiday season with Christmas, Hanukkah, and Kawanza quickly approaching. Don't waste your time looking online for something beautiful, or even more frustrating, going to the mall.
Choose linen.
Instead, this holiday season to create something lovely and lasting using fine linen products for the adults who are special to you. When embellishing linen, go straight to Ulster Linen.
Your handiwork deserves the best fabric for your best artistry, and Ulster Linen has sourced the finest European linen for over one hundred years.
Add a touch of elegance by monogramming handkerchiefs, napkins, cocktail napkins, or hand towels and make them exquisite. Choose the monogram font style that best fits the recipient's personality. Do they like metro chic or bygone days glamour?
A few tips before you start…
Pre-wash
Always prewash, prior to monogramming to prevent pulling or buckling of the monogram, which is caused by fabric shrinkage.
Use white or pale threads
When embellishing white on white, pale pinks, pale blues, pale greens and light yellows threads make for a subtle touch. This creates a more understated and elegant look.

Use strong, colored thread
Embellishing with red, blue, or green thread on white creates a bold look.
Remember your color wheel from art class? Opposite colors will jump out. Red will pop on something blue or green, and vice versa.
Classic black and white
Try white thread on a black backdrop. The results are stunning.
Looking for an easier project?
Try making towels from our toweling by the yard. Give two or three tied together with twine, and a few cinnamon sticks in the bow. We have made matching placemats and napkins and a runner for a cute country look. With a red, green, or blue band to choose from, why not make a runner, towels, napkins, or valance mixing and matching colors. I could just go on and on. Pre-sewn sides mean all that is left is to sew the top and bottom hems.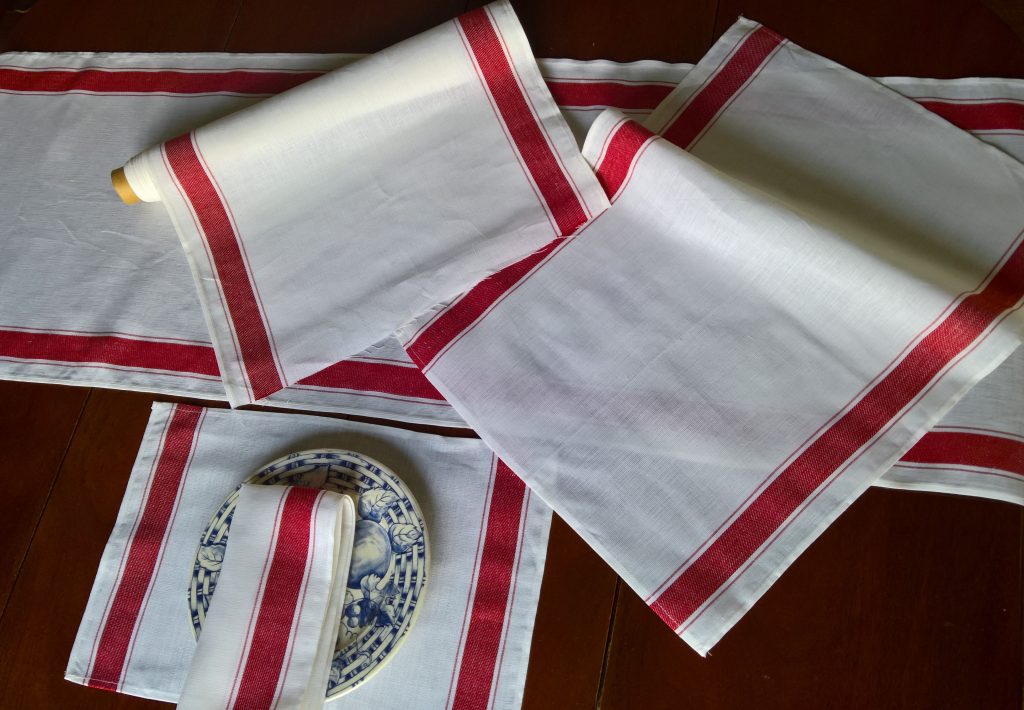 ---
A funny poem for all who toil as elves and deliver like reindeer:
"Help Wanted"
Santa needs new reindeer.
The first bunch has grown old.
Dasher has arthritis;
Comet hates the cold.
Prancer's sick of staring
at Dancer's big behind.
Cupid married Blitzen
and Donder lost his mind.
Dancer's mad at Vixen
for stepping on his toes.
Vixen's being thrown out—
she laughed at Rudolph's nose.
If you are a reindeer
we hope you will apply.
There is just one tricky part:
You must know how to fly.
-Timothy Tocher

Tie it up, put a bow on it and call it a wrap!
Have a Happy & Merry time getting creative,
The Larmor Clan & the entire Ulster Linen staff